Today the term "men – womankind" may no longer be appropriate when used to distinguish male and another female, because women are increasingly demonstrate the important role and the "character of the 21st century," his in family and society. Movement women practicing sports increasingly popular, lively in cities and cities in the country. Some girls choose the motor sport tradition as swimming, badminton, tennis or fitness and promote health while keeping the beautiful youthful physique. However, there are to choose from martial arts as a hobby fit strong personality and simultaneously safeguard nature for themselves.
Martial arts have two schools featured: martial arts and martial diamond demand. Martial arts body harness power to create the main force as Teakwondo, Karate, Pencak Silat, canopies … The martial defense needs with Judo, Aikido, Wing Chun … using clever flexibility to fight attacks violence. In particular, among the traditional martial ethnic diversity of Vietnam, Vovinam is now "sporting goods" and popular not only in the mass movement, but is considered a "national action", is promoting and love in martial arts village and international sports. Vovinam use key tenet is "diamond – need coordinated development", moderate exercise, both mental development humanistic philosophy of Budo, so it was very much you love and pursue females.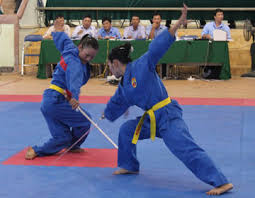 2 Vovinam students performing Executioner Song Practice
The strong female Vovinam
Minh Trang – her 10th grade intermediate schools Schools Gifted breeze profusely: "I learned Vovinam is more than 1 year before, initially only for summer holidays invite my best friends go, I try to find the time to learn Summer health tremendously, because Vovinam is subject need not require much as the health of the practice. Vovinam use of enemy forces to fight the enemy, so everyone can practice Vovinam whether weak or strong physical … Thanks to this subject where should we understand many things about Vietnam martial arts, martial arts spirit, but be Vietnamese, Vietnamese martial rather learn ".
Along with the development of Vovinam movement in the national sports sector, currently Vietnam Vovinam Federation has also collaborated with the Education and Training Sector Local deployment of Vovinam training programs in schools as a subject extracurricular physical education. Since 2010, the student movement, students practicing Vovinam becomes vibrant and opinions received support and sympathy of family, school and society. In Ho Chi Minh City and Hanoi, two local leading the country on Vovinam student movement, students, currently has over 2000 students to exercise regularly. Among them there were many outstanding female face, high achievement in school sports tournaments and have decided to stick with the Vovinam movement of professional competitions.
And with Vo Thi Thuy Trang (18), the reason is very casually: "In my 8th grade is considered a repertoire Vovinam during a ceremony at the school, then I heard weird name registries should try, summer school just a few short months, I discovered great Vovinam has good usability and matching personalities and physical fitness for women. This is the most striking feature of Vovinam. Instead it takes a ton of time to practice, go right then that school division; Vovinam martial was coach's instruction to immediately remove the lock (while being held hair, holding shirt, holding hands, strangled, horizontal hug …), basic counter attacks (while being punched, kicked, bicycles …) in parallel with the techniques of blocking, punching, kicking, cutting, falling … right from the first rehearsal. and fly dance moves beautiful old clamp. So I studied more seriously. Last year the Grade 11 examination cities go, I've tried my best and silver medal League Vovinam Students – Students citywide there. "
Vovinam youth teams of Ho Chi Minh City has many faces female professional athletes brightest. One of them was her girls Le Cam Xuan Hua, a former high school student informed Luong Van Can, District 8, with a pretty small figure but dynamic, currently studying in the University but most have owned medal Gold in the World Championships in 2009 (single punch training content female) and more recently gold medal Vovinam Championships congress national sport extremes 2010 with all legal unit forte executioner. Spring Vovinam confided to her that the charm and becoming passion, love really. She hopes to continue to strive to cultivate and improve the technical expertise to promote and sustain performance competition achievements.
The female "players" beautiful and talented
Vietnam martial arts village has many thrills, admirable in the face of female talent, overcome difficulties to stick together Vovinam or simply the ideal dedication and desire to contribute to the development of Vietnamese martial.
Cao Thuy Duong – flowers of Vovinam martial arts village performers With all legal punch knife Song of Vovinam, Cao Thuy Duong earned the title "Sports Talent" in the Miss Sport 2007 and reached the Top 10 of this contest. One of the reasons of Ocean speech help immediately persuade the jury, because this beautiful backgrounds athlete royal title III of Vietnamese martial discipline. Former teacher Cao Thuy Duong, Pham Patriots coach remembers her first day Vovinam students to class in 2002. At that time, she was 15 studying volleyball, while teachers Korea, home advantage Xining, to Yen Bai founded Vovinam first class local. Thuy Duong noticed promising, dedicated to sport, he put a lot of time forging Korean martial Ocean from morning to afternoon. Thuy Duong once confided: "I hope the way professional athletes, as if at home, they can only sell vegetables farming or go alone."

Thuy Duong in a punch performances.
In 2004, Cao Thuy Duong won the first bronze medal in his playing career at Vovinam Championships held in Can Tho. In 2005, after a year of efforts to train, beautiful girls of the village of Yen Bai sport silver medal championship in Phu Yen.
In Miss sports, performances of Thuy Duong Song executioner approach that judges really amazing. Confidence plus new styles and lines fit flexible powerful medium of Vietnam Vo Dao has conquered even the weight bouncing hold ink.
Master National pride in her pupil wise sage, this talent: "Friends in the national Vovinam phoned to congratulate his pupil was now famous. At that time, I was happy for Ocean too, because the path they chose initially to benefit from ".
In 2008, won the title of Miss Amity big beauty pageant in the world's most – Miss International, Thuy Duong is considered the brightest face, has received a lot of votes in favor as well as the fan Her athletic talent.
"Queen" Vovinam Pham Thi Phuong – woman resourceful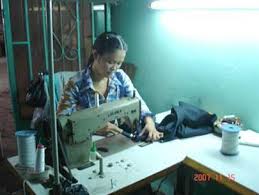 Queen Vovinam just an ordinary seamstress
Just an ordinary tailor, but in martial arts village they called her "the queen of Vovinam" – Pham Thi Phuong.
Born in the family, "the cardboard house" with 12 people under martial, only 29 years old but Pham Thi Phuong has experienced 19 years of practicing Vovinam. 14 years at the top, Phoenix won so many gold medals, including 2 gold medals World Championships.
Phuong said: "As a child I timid, back or bullying should be friends with his intention to learn martial tougher. Apparently I have an affinity with each other, and Vovinam must ".
The charm of Phoenix began in 1988 when Vovinam was put into a fitness program at the School of Chanh Hung Secondary School (District 8), where the Phoenix school. The blow that made her beautiful love Vovinam always unknown. Just as it is absorbed into the blood himself. After a year of studying martial arts, family reside Phuong physical education should not care, until she won in exam valedictorian Belt, carries the title of glory, then the new house surprised.
To convince parents, Phoenix tried to do his job well to dark to the cooing … please attend martial. Before the determination and passion of her, parents Phuong had "surrendered".
The efforts of Phoenix has picked the first fruits when she won gold medals in the weight class just 33 kilos City young children at their first tournament participation. She Phuong 11, 12 when he did not expect a medal here is a prelude to the string of her success in the future.
From the Gold Medal, the Phoenix has "influence" to persuade her siblings to school martial. Initially only go to school for fun, but gradually you passionate and Phoenix quickly became the best student of the oven martial District 8. Such Vovinam he plans Phuong, Pham Van Phuoc, won the Gold Medal Vovinam International 1994, 1995. Pham Thi Bich Phuong sister has won 2 gold medals at the national Vovinam Championship VI times. Sister-and who has performed with the Phoenix for a long time also won the Gold Medal for years.
Master class with pink belt standards, Pham Thi Phuong is a veteran athletes of Vietnam Vovinam team to compete, performing all over the world to promote the image of Vietnamese martial disciplines country.
Grandmaster Liu Kim Lang and Master Cam Binh
Arrive with martial arts since the age of thirteen, Master Kim Lan Luu, Binh Duong unit has shown the special qualities of the martial home, plus intense passion, has nearly 40 years, not days yet she is absent where courts martial. With her "Vovinam is breathing, the passion, that's what she did see the charm in his career …".
Although the family no one in martial arts training but with passion for martial arts, she has enrolled Ngo Kim Tuyen teacher in 1968, when she was barely 13 years old. By the year 1977, she got to Saigon "visiting professor" senior masters of Vietnamese martial sect, from which she trained hard to hone the technical expertise, raise the level. Thanks to these efforts, Master Kim Lan is recognized as the first female Vietnam reached caste "Red Belt" of Vovinam – Vietnamese martial.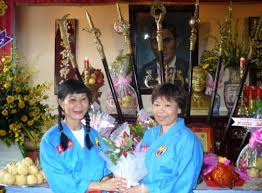 The woman reached the highest level of Vovinam firs.
And in 1987 she began to stand out in the open class martial Sports Center Thu Dau Mot town with only a few students initially, after "good reputation", students attend more winter. Through 20 years of teaching, Master Lan has nearly 10,000 students baked and has a very large movement to build Vovinam in Binh Duong province to grow as today.
You NTT, one of her students said: "Come to class martial arts, in addition to training the body has a good health, can safeguard or help others in cases of necessity, we also Lan taught her things or should have in life … She also often lead us to go camping, picnic, meet many old mother alone and helpless. We were very touched and have learned a lot from her. "
Currently, thanks to her efforts and provincial sport sector, Vovinam was common in Thu Dau Mot Town and 3 other districts of the province with a total of nearly 400 martial arts students.
To be able to contribute effectively to their martial which "heavily" Ms. Lan has made good economic assurance family, rational use of limited funds in the day time, for half day to shop Beauty row at home, the remaining time for martial arts. And she has made remarkable achievements in the two fields and martial arts career, something that not every woman is achieved.
Vovinam – Vietnamese martial art for women Vietnam
Besides grandmaster Liu Kim Lan, the development of Vietnam Vovinam today also recognized the contribution of female athletes always exercise patience with passion resolve high achievement for Vietnamese sports background Nam as the national champions and international – Chan Nguyen Thi Quyen (unit An Giang), Tran Thi Thanh Chuc (Vinh Long), Phan Thi Ngoc Han (Ben Tre) … or the female referees, the "pink ball" Operating rare tournaments a bravery such familiar names: Pham Thi Kim Session (Army unit), Nguyen Thi Thuy Duong (Dong Nai), Nguyen Thi Thanh Tu (Hanoi) Bui Dang Hong Nhung (Pacific) …
In the framework of this article, the author is not able to name all of the talented female faces are more prominent or dedication to martial arts background of the nation.
March, International Women's Day, is dedicated to the female students of Vovinam best wishes. Through this, also would be honored and grateful to the masters, referees and athletes have always Vovinam training efforts, contributed to the growth of the traditional martial arts of the nation with progressive achievements of the country's sports in general.