Since the late grandmaster Nguyen Loc founded the far, Vovinam has not stopped growing ideological Budo and technical systems, as well as being introduced, to more widely promote 50 countries and territories on five continents.
From the cherished, enthusiasm to learn the basic characteristics of ethnic Vietnamese martial character with the acquisition of the essence of many other martial arts world, Founder Nguyen Loc has completed work on first in 1938 and launched applications and some experience of friendship in Hanoi. During nearly 15 years (1940-1954), Vovinam has been widely promoted in Hanoi is gradually spread to all provinces in the North, such as: Son Tay, Nam Dinh, Thanh Hoa …
Vovinam
In the first period was introduced in mass sports movement, Vovinam training program divided into 3 class: primary – secondary – colleges. However, during the wars against the law of the country, not many people attending the program fully. The martial arts class usually lasts only openly 3 months, including exercises (10 movements), preparation tonnes hand edge, brawny biceps; Flying people, theater down, the elbows and knees; the acrobatic style, posture falls safely; so basically the counterattack and the entrance lock removed; 4 post but practice; How safeguard the combat arms (swords, sticks, cone, machetes); 21 single leg that is not taught in all but trained transplant.
In addition to promoting ethnic martial art, the teachers and students of Vovinam martial also regularly coordinate with unions organizing patriotic national holiday in Vietnam such as: death anniversary of Hung Vuong, Uprising anniversary Hai Ba Trung and the activities of social relief, community support …
Mid-1950s, bringing Vovinam ambition and enthusiasm: "to serve the nation and humanity", Founder Nguyen Loc and his followers went to the South, open the first martial arts class in downtown Saigon, Thu Germany, Dalat … While new Vovinam movement be established in the South and also challenging in the context of the country to be divided, Founder Nguyen Loc died suddenly seriously ill in 1960, handed over responsibility Services for senior disciple of Grand Master Le Sang colon. The period 1961 – 1975, movements lull early years and then recover and develop quickly thereafter.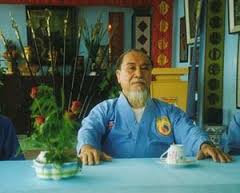 Grand Master Le Sang
Grand Master Le Sang along with senior masters formed Executive Committee sect, stand out leader and executive to revive and develop the discipline. Based on the ideology and techniques, all copies of the late grandmaster Founding Executive Committee has added discipline, build a new training program for each level with the time learning and examination system, strict caste system and science. This time, Vovinam widely developed, strong and mature in many ways, both in terms of movement and quality of technical systems. Since 1966, Vietnamese martial arts are put into the main teaching and extracurricular courses in the school system and was renamed Vovinam – Vietnamese Vo Dao to students, youth focused national spirit when preparation martial, almost striving train both mind – Tri – Fitness, to serve the cause of building and defending the country.
The period 1975 – 1990, after reunification, Vovinam movement was sporting goods martial arts and became public, was put into training and competing in sport system of provinces and both at national level. Technically, follows the motto "one develops into three", meaning from the fundamental group unit merge them into all training exercises and all, but to help people set catchy, often deepens through refresher and Masters was added to the technical system and training some post right hand and weapon ko6ng as: Introductory punch, punch the four pillars, the five subjects punch, the punch Vienna, The formula that punch bowl and 4 posts Demand punch Qigong, 4 threads Union for training completion, along with auction taper Song, Song for Justice, Legal Code recital, Yin Yang Phalaenopsis additional blade … The system has helped all the techniques of multi-discipline and suitable for many types of objects. The caste system also features a black belt after belt Lam III level, the transition between elementary and middle class, used to compare with the belt system of the other martial arts such as Taekwondo, Karate, Judo, Aikido …