Do not just stand on the floor with five times world champion, Xu Xuan Le Cam was a teacher, is endearing student at junior high schools Li Feng, District 5, Ho Chi Minh City.
The name by learning martial mistake
In the village of Ho Chi Minh City Vovinam, Jin Xuan known as a talented athlete integrity, success in career and have a stable job. She rose to fame with five times world champion in the content right. At the last SEA Games 27, Jin Xuan also excellent winning 3 silver medals.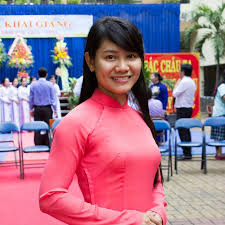 Like many other athletes in sports village Vietnam, Cam Spring comes with 1 Vovinam by casually turning point. "In grade 6 (2000), I was brother led a training session. The original intention was for this venue karate but did not expect him to learn Vovinam leads. I learned 1 week carefree know the upside school subjects, but also good to see Vovinam always decided according to "Jin Xuan smile when he recalls his fate brought to Vietnamese martial disciplines.
Native of Ben Tre coconut but from small family Jin Xuan was under Ho Chi Minh City on business. The youngest in a family of four brothers and sisters, her parents wrapped but Jin Xuan mean real independence from the early and very diligent with Vovinam. Although housing Binh Hung Commune, Binh Chanh District, but she still rode daily with distances to secondary school training base at Tung Thien Vuong (District 8). Initially, this beautiful athlete competitions at 42-45kg weight class championships at the students of Ho Chi Minh City from 2002-2003 to 2005-2006. But later she found her fit better with the right content. From behind a Gold Medal at the International Vovinam Ho Chi Minh City Open in 2005 with all Long Ho Quyen, Jin Xuan has decided to move to the right. Currently, Jin Xuan bearing pink belt standards (standard grandmaster title colleges) of Vovinam. She was featured athletes vovinam Ho Chi Minh City as well as the recruitment Vietnam in recent years. Not only excellent play, Xuan Cam study also attempts to become the teacher of physics today.
Vovinam but firmly asked a teacher thanks
By now athletes in professional sports, not everyone care for learning fulfilled. But Jin Xuan, the other, she has promised his parents will definitely accomplish my dream of becoming a teacher. In 2007, Jin Xuan time Gold Medal winner world's when she played at the Pedagogical College Ho Chi Minh City and then contact the school at Pedagogical University. 4 years ago, she became a teacher of secondary school physics facility Li Feng.
College teachers tight capital hours, while regular professional athletes must go to practice and competition. So, to fulfill both 2 job is not easy. "Fortunately for me is the teachers in my school every sympathy for travel time playing, instead of training all day, then the classroom, put an exam, I do not know how managed", Jin Xuan said. Jin Xuan profession not a high income, but helped her get one steady job to be able to care for herself after breaking up the ring. This is not the athlete always possible, because your best time they have devoted to the sport. "Doing my current teachers receive basic salary than 3 million / month. This amount can not be compared to the regime in a goal with achievements like Vovinam. But it's the job I love and will stick long. With Vovinam, which is karma helped me accumulate School and let yourself be one less to cultivate lifted for the future ", Jin Xuan confided. Currently overtime duties of 1 teacher amphitheater of gentle or strong on the ring Vovinam, Jin Xuan remains the youngest daughter loving parents out of ink. At 26, when you are married, Jin Xuan also looking for someone to share the pair walked …