Mr. Le Hai Binh, 37, who has been appointed Spokesman of the Ministry of Foreign Affairs of Vietnam, there is a pink-class masters of Vovinam belt (class 5).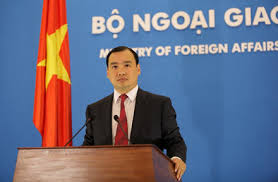 Mr. Le Hai Binh – spokesperson for Vietnam's Foreign Ministry.
In 2007, the Federation of Vovinam martial Hanoi city was founded, Le Hai Binh became the first Secretary General of the Federation. By 2012, Mr. Le Hai Binh was re-elected General Secretary of the Federation officials Hanoi Vovinam second term so far.
Talk about learning purposes Vovinam, Le Hai Binh said that, as a child, he was learning martial arts instruction in school is directed to be human. Now grown up, Mr. Binh aware that traditional martial Vietnam religion is a combination of philosophy, morality of the nation to educate youth … Until become masters, do see the paper martial, he found that, martial nation has helped promote the image of Vietnam to international friends.
Le Hai Binh is currently holding the position of member of the Executive Committee of the National Federation. In this school of Budo, Mr. Binh was ranked grandmaster, reaching Red Belt.
In addition, Mr. Le Hai Binh currently manages a club Vovinam State University with 200 students, including 100 drill typically a three- xuyen.Thay performer of Vovinam masters say , this is the club where many students in Hanoi.
In the martial arts of Vietnam, Vovinam is developing the largest scale and with many students are present in more than 60 countries around the world, including Poland, Belgium, Cambodia, Denmark, Germany, the US, Morocco , Norway, Russia, France, Romania, Switzerland, Sweden, Singapore, Uzbekistan, Thailand, Italy, Australia, India, Iran, Spain, Algeria, Taiwan (China) …