On January 4th, 2015, all Vovinam disciples – Viet Vo Dao will officially make the 17th memorial service late grandmaster Tran Huy Phong. Memorial Human season, this article as an incense rising Master – a tree of Vovinam has devoted his life to the cause of building, injuring incense and promote sect …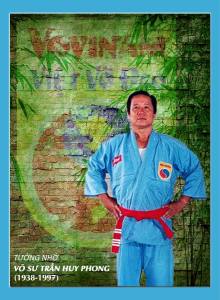 "Master Tran Huy Phong … exploring spirit and commitment, have the courage to assume the responsibility of managing such risk period. He has strong faith, hard-trained and promptly conduct … I have a clean lifestyle, casual, always selflessly to serve ideals. Do you have adequate manner, virtuous and the desire for progress, qualified profound martial arts, advertising practitioner knowledgeable, capable and prestigious leaders … ", Grand Master Le Sang stated in the edict Grand Master.
Late grandmaster Tran Huy Phong Tran Quoc Huy himself was born November 14, 1938, in Nam Dinh province. According to the same study Vovinam Founding Grand Master Nguyen Loc since 1954, he is gifted, diligent practice and quickly became a good disciple. After Founder Nguyen Loc died, Master Le Sang feel responsible, the Grand Master Tran Huy Phong sensei invaluable assistant Masters courses (since 1964)
By 1968, he assumed additional youth work of the sect. He did the same with the masters College built a new technical system to discipline focuses more on antagonistic. And until 1973 he was assigned to take charge of the training of Vietnam Vo Dao sect. Also late grandmaster Tran Huy Phong as well as moderator Mon dispatched a long time when the Grand Master's absence.
Overall, more than 40 years, Master Tran Huy Phong has spent his entire life contributing put Vietnam Vo Dao sect from those fledgling days to stage widespread and powerful as they are today. Many of his students continue to promote Vo Dao in Vietnam and abroad.
With earnest working style, but open, close and often help people, grandmaster Tran Huy Phong made the affection in the hearts of many generations of Vietnamese students Vo Dao. Through contributions to the discipline. He was named the Red Belt fifth grade (equivalent to black belt class 9) since 1989 and holds the highest rank in Vietnam Vo Dao sect after Grand Master Le Sang.
Besides martial arts, Master Tran Huy Phong lost interest in the work of cultural – educational – he is the founder and assume the position of Vice Chairman of the Managing Board and Director Center Fitness Education Center, University Hung Vuong school in Ho Chi Minh City.
He died at 19 hours 35 minutes 13 November 1997 at Ho Chi Minh City after a period of critically ill.
Every year on his anniversary, his disciples all over the world are organizing a memorial service offered incense reminds pay their respects and gratitude tremendous learning the example of the late grandmaster Tran Huy Phong.
"A true disciple is born only half believed in the ideal of the sect. Behave and work in the spirit of Vo Dao, what benefit the sect is done, what harm is avoided sect. Absolutely no bias, no partisan private not a teacher at all. A teacher Whatever the level of just one individual, but the sect as a whole including the Founder and generations of disciples have been, will follow the set …