Miss Ao Dai had reached the top of the school, but "blue roses" Nguyen Ngoc Mai won numerous achievements in Vovinam. Born into a family no one under martial but Nguyen Ngoc Mai now back on his jacket dreamed of Vovinam martial birth.
To satisfy his passion, Mai had to overcome health barriers, especially the objections of her mother in several years. Do not get consent from the family, which is also the biggest hindrance to this girl. But because of passion, so I never overlook any opportunity to reach out to the martial arts and seeks to "conquer" the mother. To Year 9, Mai risked a registered collective phen Vovinam mother hid in club nearby for easy travel. Since there are separate bike should be more proactive and Mai also somewhat relieved if the mother accidentally discovered.
To be enrolled in Club, Mai had to borrow money to pay tuition cousin, a martial arts then ask of a friend are students. Mai wit said: "Each episode had finished his small house and you ask carry the next day to wash. Thinking back also suffering, range 2 months later, the mother was discovered, of course he had been slapped la té, carnage, even forced to choose between family and martial arts, if under martial then out again instead ".
Mai time convincing mother probably the hardest because she always perceived: "Girls must unassuming decency, learning martial arts do?", All the reasons are "excluded".
"Who lived without passion that! Such happiness when you are pursuing with passion himself, though she still refused to agree. Sometimes sad, very depressed, want to listen to mother quiet conversation but his heart pang, uncomfortable. Fortunately, the "rain soaked earth", thanks to the teachers and relatives repeatedly convinced, received his reluctant nod from me. And I have to answer the condition is not martial arts, but to affect learning and do whatever they do, to the 12th grade year to voluntarily cease to concentrate on examinations "- Ngoc Mai says.
"Wins do not arrogant, failed not discouraged"
To please a teacher and mother especially for her conditions to study martial, Mai strive towards training and competition to prove their abilities.
Looking at the small figure, little known to frequent Mai Injection weight from 6 – 7kg, proper diet with the request of the coach, Mai said: "First time to lose more weight than that, I am a little shocked , but exercise regime and diet counseling are teachers, I gained weight requirements. During molding weight, I still injured but fortunately only slightly ".
Also, to balance school and martial arts and Mai to enlist in the evening, when preparing for a tournament, the coaching committee requested more training, then led Plum "rotating spiraling" .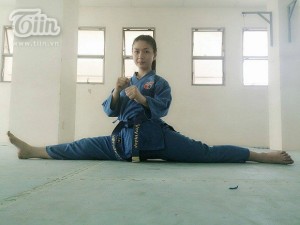 The attack by Mai are expressed strongly, decisively, my personality, to get the blow right, or it is beautiful and exercise patience is essential. Mai said: "In every fighting style should concentrate as if playing a little can make you or someone with training was unnecessary injuries. I also have a slight foot injury, but not serious, often flipping nursing shirt views a month is nothing, but then have to bring protection and be more careful. "
When talking about the most memorable, Mai said: "It is the first time away from home playing by the same year the organization take Mau, from his childhood but also a bit worried about the help, care care, encouragement from teachers and siblings are also partly supported. Arrive before the game, its always great match, I still remember the mother called again and offset speaker spree ". (Laughing!).
From a gentle girl, shy but when engaged in traditional martial, Mai changes everything, especially on the personality and health. Moreover, Mai received the attention of teachers and friends, this is my second family. Since then, Mai is known as the "blue rose" extremely Vovinam personality, especially on the court, prettiness, her graceful looks like burning all of rival males.
"Never extinguish his passion but to inflame it up so everyone can see and recognize. With those you intend to choose a sport to exercise the Vovinam is a great decision that. Vietnam Vietnamese people studying martial arts, martial Learning Vietnamese – Vietnamese patriots that, "Nguyen Ngoc Mai share.
Full name: Nguyen Ngoc Mai
Nickname: Mai Ù
Date of Birth: December 2, 1997
Courses in: High School Vung Tau.
Achievements:
– Bronze Medal Championship Youth 2012 national Vovinam, 2013
– Gold Medal Award Vovinam Southeastern Cluster 2013
– Gold Medal Club Cup the national Vovinam 2013
– Silver Medal Award Vovinam Southeastern Cluster 2014
– Gold Medal Award Vovinam Congress Ba Ria – Vung Tau
– Gold Medal Youth Vovinam Championship in Ba Ria – Vung Tau Province in 2013, 2014.
Some of Ngoc Mai different picture: