With 300 boxers chatter crowded stadium floor Salle Hassan techniques performed beautifully Vietnam Vovinam Budo – Algeria Vovinam disciples were impressed with all the guests, fans of martial arts to attended the opening ceremony of the World Vovinam Championship 2015 fourth time as well as all viewers watch live programs on national TV channels Algeria.

Views of the World Vovinam Championship 2015
Not only that, the team's outstanding boxers national team of Algeria has performed excellently all of Vovinam martial essence of the post: Crushing leg attack, Song sword training, Dual Training scimitar, Dragon Tiger punch , from early hand … causing cheers filled the stadium Salle Hassan and hot air as more inherently more heat. Lasted nearly 20 minutes, but this is probably the most impressive performance since the World Championship held in France in 2013.
Attending the opening ceremony Award, which was attended by Minister of Youth and Sports of Algeria Mohamed Ali Oueld Ambassador to Vietnam Vu The Hiep Algerian Ambassador to Italy, Iran … in Algeria, officials of ministries , army generals, police Algeria. To the Federation of the world with the participation of Secretary General Vo Danh Hai and Master Nguyen Van Chieu- vice president of engineering, masters Mohamed Djouadj – Chairman of Federation of African leaders and representatives of the Confederation of other continents.
At the opening ceremony, Minister Ali Mohamed Oueld appreciated the efforts of the Organizing Committee and thank WVVF was entrusted to the Algerian authorities to host this important event and assess the cooperation between industry good Vietnam sports, WVVF and Algeria.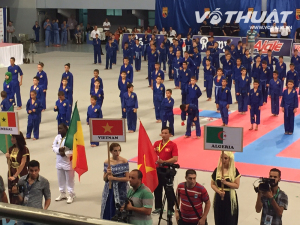 Vietnam team at World Vovinam Championship 2015
Even in the first days of competition, host Algeria has shown remarkable progress having won 2 gold medals 57kg and 60kg male resisters and championship but training content unarmed men (but practice 3).
Vietnam team won the leg attack enemy offensive content with veteran Van Cuong – Binh Dinh – Khac Nguyen and Dong Vuong. With all modern Japanese sword voluntarily, Huynh Khac Nguyen has confirmed the ability of "no respect" when 4th win the championship this content. World champion and SEA Games Nguyen Thi Kim Hoang no trouble dominating rivals Algeria in the final she won gold medals in the 2nd half of the match with the score gap 11-1.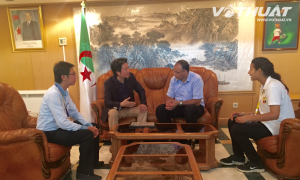 Secretary General Vo Danh Hai WVVF conference with President of Federation of Africa – M. Djuadj
Review of Resolution, Vo Danh Hai – General Secretary WVVF – Deputy chief Prize permanent organization, said: "Due to lack of reliable water rights movement as France, Indonesia, India (absent last minute) should Gold Medal scramble content just punch almost two-horse race between Vietnam and host Algeria. Tensions may remain only in the content antagonist when the African nations want to emulate rise medal for Vietnam, Iran and Algeria. "
League noted the significant progress on the content of the host country authorities of Algeria and the Ivory Coast while sending strong and complete squad. Especially the Algerian boxers have a competitive team very young and prolific rights. They have good individual technique, playing confident, rational layout of all, the good turn.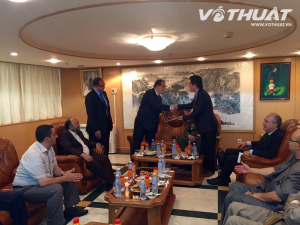 Secretary General Vo Danh Hai awarded WVVF medal for Youth and Minister for Sport Algerian Mohamed Ali Oueld.
It is also a lesson for national development in the world for investment methodical, reasonable and effective. Starting joining National Championship in 2009, 2011, Algeria has invited leading experts of Vietnam: Master Nguyen Chanh Tu, Master Nguyen Chanh Tu, Nguyen Khac Huynh masters to train teams Coach ranks and organize advanced training for the national team. And in just a short time, the technical level of Algeria has reached the continent's leading range and ready to compete top 3 countries worldwide.
July 30 evening, the Algerian Ambassador to Vietnam Vu The Hiep at a meeting and banquet reception of the team leaders and the organizers prize at Vietnam Embassy in Algiers. In an atmosphere of friendship, openness. Ambassador Vu The Hiep thanked the World Vovinam Federation, Vovinam movement leaders of nations, continents have support, develop and promote Vovinam – martial culture of the people of Vietnam – thereby strengthen friendship and mutual understanding, promoting peace and stability of the world and the region.
As planned, the tournament will continue for 2 days and the Closing Ceremony will take place on the evening of August 1, 2015.