From July 29 to August 2, 2015, the World Vovinam Championship 2015 Fourth was first held in Algiers, People's Republic of Algeria. This is the first time the top league on to the "black continent" as a powerful demonstration to the spread of martial arts Vietnam to countries around the world.
Shortly before the opening League, Reporters Vietnam News Agency in Algeria met Vo Danh Hai exchanges – Vice President World Martial Arts Association / General Secretary of the World Federation of Leagues and growth Vovinam growing global movement …
Reporter: Can you tell us the composition and qualifications of Vietnam delegation attended this tournament?
Vo Danh Hai: Vietnam Vovinam have 30 officials, umpire, coach, athlete, including 22 athletes won many outstanding achievements in the world, Asia, South East Asia both content rights and the month in which the name: Mai Thi Kim Thuy, Nguyen Van Cuong, Pham Thi Bich Phuong, Nguyen Khac Huynh (world champion for many years on the right), Nguyen Thi Quyen Chan, Nguyen Thi Kim Hoang (world champion, champion SEA Games). Of course, the celebration of the official delegation, referee, coach, athlete crowded not only aims to achieve good performance at the World Championships this Fourth of Coaches, Athletes must also carry the message spread and introduction of beauty, quintessence of Vovinam – a Vietnamese culture through this tournament. Nearly 1/3 of the Coaches, Athletes participate League is also the coach of the Organizing Committee adjunct to technical training for the masters, international coach this African region. Due to the selection of the boxers are athletes many years of experience, most of them with high professional qualifications.

Views of the World Vovinam Championship 2015
As mentioned above, the goal of "double" that brings Algerian delegation visits Vietnam this and all international competitions: one is: assert power, the essence of martial arts in Vietnam through qualification Vietnam's boxers – the hometown of the art; Secondly, through the League competition, our boxers to promote the image of the sect, the Vietnamese spirit through martial arts pictures. The boxers participate League are qualified, high level. So to win medals at the right content is not difficult and not the "ultimate goal" at the League.
So in charter League for many years, we have taken control provision in countries where strong to just be involved nearly 2/3 of content.
Reporter: He said the ability of players to Vietnam?
Vo Danh Hai: On achievement punch, the boxers in the content are capable of winning the highest rating. Mai Thi names such as Kim Thuy (content: application training, women's self-defense), Pham Thi Bich Phuong (Dual Training, Four game), Huynh Khac Nguyen (single practice, leg) … are hoping golden times This.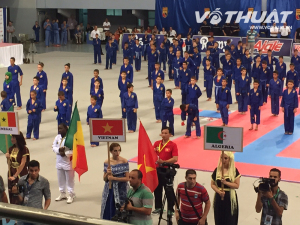 Vietnam team at World Vovinam Championship 2015
About antagonists, despite the absence of boxer from Iran, Russia (by attending incomplete contents), but the ability of the gold medal boxer Vietnam absolutely not easy. We still have to depend on the resilience of the female boxer Nguyen Thi Quyen Chan (60kg), Nguyen Thi Kim Hoang (54kg) … On the level, now the country has a well prepared and completely not remote difference.
About punch-year-absence of strong boxers from France, Italy, Indonesia, Vietnam almost without rival in the content involved. Hide this year the number of bookings in the Algerian boxers homeowners with the desire to win on home soil and have pretty lengthy preparation during the past years. Specially qualified homeowner rapid progress after the training of the leading experts from Vietnam as Vo Nguyen Van Chieu Graduate, Graduate Nguyen Chanh Tu Vo, Vo Nguyen Khac Huynh Degree.
About countervailing chance divided equally among the teams. The strong opposition team remains focused on Russia, Iran, Vietnam and Algeria.
Reporter: Why we chose Algeria to organize this tournament, sir?
Vo Danh Hai: After two World Championships 1st and 2 held in 2009, 2011 in Vietnam, World Championship III held a very successful lighting in the capital Paris, France in 2013 Vietnam and France on the occasion of the 40th anniversary of establishing diplomatic relations were resoundingly in Martial Arts world and fans. Following this event, Algeria – a country that has just built Vovinam movement in less than 10 years but there has been significant progress. With the support of the Algerian Olympic Committee, Ministry of Youth Sports and especially the efforts of Master Mohhammad Djouadj – Chairman of Federation of Africa – Algeria currently has a very strong movement with hundreds of clubs countries with the amount of tens of thousands of students.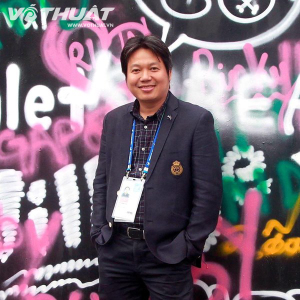 Vo Danh Hai – General Secretary of the World Vovinam Federation
Therefore, when Algeria's intention to host the World Championships IV-2015, the Permanent World Vovinam Federation was wholeheartedly support the idea of ​​bringing this prestigious tournament on the "black continent". Personally I would have to work twice with Algerian Martial Arts Federation, the Ministry of Youth and Sports, the Algerian Olympic Committee to discuss the steps to cooperate and support the successful organization.
Initially, due to many reasons such as Ebola care, distance traveled far with several countries and members are concerned, but with the determination to promote the culture of Vietnam to Africa, especially Vietnam and Algeria are more bilateral cooperation, President Nguyen Danh Thai and WVVF standing still held in this decision.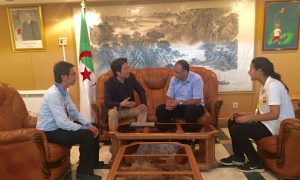 Secretary General Vo Danh Hai WVVF conference with President of Federation of Africa – M. Djuadj
Reporter: Vovinam movement worldwide now how and under him we have to do to Vovinam can spread and develop the five continents?
Vo Danh Hai: Currently Vietnam Vovinam movement has presence in 50 countries and territories of the 5 continents. From a martial art Vovinam nation has spread and internationalization of approximately 40 years and is rooted in the land and many international friends are welcome, training and love.
Not only that, Vovinam also been confirmed as an international sport in the presence of the Olympic sports competitions like the Asian continent Indoor Games III in 2009, SEA Games 26 (Indonesia), 27 (Myanmar) and here's upcoming ASIAN Beach Games 15 (2016) in Vietnam.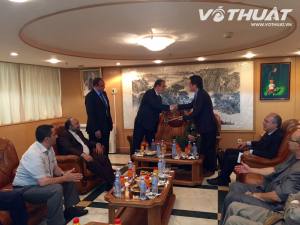 Secretary General Vo Danh Hai awarded WVVF medal for Youth and Minister for Sport Algerian Mohamed Ali Oueld.
To Vovinam spread and further development, we need a long-term plan, right stature as a strategy promoting Vietnamese culture in a way that the following countries: South Korea has to do with Taekwondo, Thailand do with Muay, Japan do with Judo, Wushu Chinese do with … So it takes the hands of the two branches: Foreign Affairs and Culture, Sports for the construction of a promotional scheme, honoring Vietnamese cultural communication martial arts through the promotion of this nation. Fortunately, Vovinam has taken lace in all five continents and student count was nearly hit 1 million. Regarding internal resources, we also need to build a team of masters, Coaches have high qualifications meet international development work. Early also build solid team of volunteers to go hunt "undercover" long-term training abroad. The construction of training center modeled International Vovinam martial arts academy as Kukkiwon (Taekwondo) or Kodoka (Judo) … to dig in coach, professional masters that it entails early implementation.