Vovinam provides efficient way of self- defence, says Dr Sahai - The Hitavada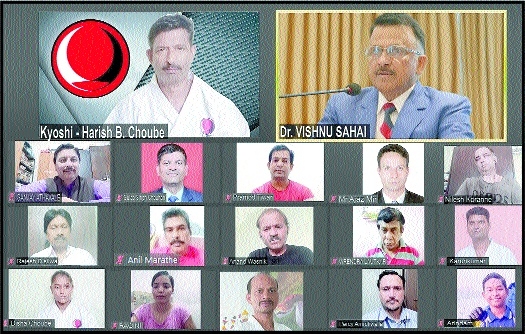 Principal Correspondent :
VOVINAM, a form of martial art, is practiced with and without weapons which provides an efficient way of self- defence, said Dr Vishnu Sahai, Technical Chairman and Founder President, Vovinam Association of India and Vice-President of World Vovinam Federation and Asian Beach Games Referee 2016. Dr Sahai was speaking during the Online Karate and Sports Seminar for Physical and Spiritual Development of students organised by Karate Budokan International (Vidarbha Region) and hosted by Kyoshi Harish B Choube, Black Belt 7th Dan, National Chief Instructor and Examiner, Karate Budokan International and Sports Coordinator. Dr Sahai said, "Vovinam can be used in different kinds of combat as it is designed in a way that helps use different techniques like "scissors" as well as other techniques like kicks, punches etc.
This martial art is recognised with the sports ministry." Vovinam got affiliation from the Olympic Council of Asia during the 3rd Asian Indoor Games 2009 and became an official sport at the competition organised by OCA, claimed Dr Sahai. "It has been played in India since September 2008 and thousands of players are practicing the sport in 25 States of the country. Vovinam is also included in the School Games Federation of India (SGFI). VAI also organises national-level championships every year," informed Dr Sahai. Speaking about the origin of the sport, Dr Sahai said, "Vovinam was introduced by Grand Master Nguyen Loc in 1938, with the intent of providing practitioners with an efficient method of self-defence after a short period of study. Nguyen believed martial arts would contribute in freeing Vietnam from colonial rule, which had been ruled by France since 1859, and from outside domination," he informed. "Vovinam is similar to Taekwon-do and is an eclectic system with combined elements of Japanese and Chinese martial arts," he added. Elaborating further, Dr Sahai said, "Based on Vo-Thuat, the students aim to develop the ability to combine hard and soft in combat and in daily life.
This aims to develop physical abilities as well as sportsman spirit. The game also internalises the martial art philosophy, e.g. fighting spirit, courage, tenacity, fairness, modesty and tolerance. "A Vovinam player gains generosity and develops patience. The main aim of a Vovinam player is to be able to help others to live in peace and harmony with their surroundings. With the salutation of iron hand over benevolent heart, the player is reminded of the main principle and the goal of Vovinam during the training," he said. Dr Sahai also spoke about the principles of Vovinam. He said, "Vovinam disciples vow to pursue high proficiency in their martial art in order to serve the people and humanity. They promise to be faithful to the intentions and teaching of Vovinam and develop the young generation. It teaches to be united in spirit and heart, respect elders and be kind to peers.
It also teaches to maintain high standards of personal conduct and honour of a martial art disciple. "A Vovinam player has respect for other martial art schools and only uses martial art skills for self-defence and protects justice. It teaches to be studious, strengthen the mind, enriches thoughts and behaviour. It teaches to build up a spirit of steely determination and vigour, overcome powers of violence and make intelligent judgments, carry out struggles with perseverance and act with alertness," explained Sahai. The programme concluded with interactive sessions. Renshi Karun Kumar, Karate Budokan International, proposed a vote of thanks.
Source : https://www.thehitavada.com/Encyc/2021/5/12/Vovinam-provides-efficient-way-of-self-defence-says-Dr-Sahai.html