Nearly 700 students from Secondary School Kien Thiet perform spectacular attacks of Vovinam martial nation to send to teachers as thank you from the bottom of heart.
On November 20, the Kien Thiet Secondary School (223/4 Nguyen Dinh Chieu Street, Ward 5, District 3) organization program day honoring Vietnam Teachers' Charter school like any other.
However, the teachers of the school were extremely touched by the very special gift of his students brought it monitors electrical current rather Vovinam martial arts spectacular and grandiose.

The school-students-training-middle-of-very-soon-to-standard-equipment-for-display-which speak-forum-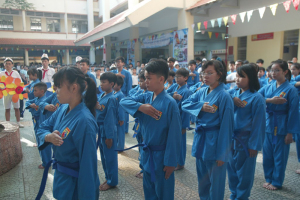 Ensembles prepare their strict implementation of Vovinam ceremony
No star was thrilled when 623 students have won more than a month to train hard after school to have meaningful gift offered to the people of his beloved teacher. According to Mr. Nguyen Van Hai – in charge of guiding the children practice: "Initially we encountered many difficulties as most of them do not know about martial arts and sports sedentary. So sometimes we have to modify movements for each child so that uneven performances and most beautiful. "
Map the performances of students of lower secondary schools Kien Thiet: