In Quy Nhon City, 5 years ago only 4 points teaching Vovinam, the current has increased 9 gym, Club attracted a large martial arts students practicing regularly. However, Vovinam movement has not been "pushing" to flourish as many provinces and cities in the region.

Birth Club Vovinam Martial Culture House of Labor, Binh Dinh province were practicing.
Vovinam is currently growing strongly in the country and spread to many countries around the world. Vo Danh Hai – General Secretary of the World Vovinam Federation said: "The promotion and construction movement Vovinam – Vo Dao Vietnam to the world is a long and arduous process, but also very proud, because after more 12 years, Vovinam has spread to all five continents of the world, especially Africa, we have been a team for nearly half a thousand students in six countries in the region, including the most developed the movement in Algeria. In Vietnam, Vovinam has been put into practice and provincial competitions. In their last trip Nhon- Binh Dinh Quy, I went to the club to practice Vovinam, generally I appreciate the spirit of learning, diligent hard work in practice of martial arts students. With physical condition is poor but young boxers have shown tremendous passion for Vovinam. With the seriousness of the spiritual masters practiced with enthusiasm of the boxers, I found that City Binh Dinh Quy Nhon- land can be developed well this sect. "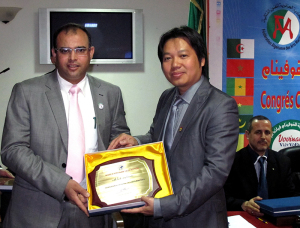 Vo Danh Hai – WVVF Secretary General and Chairman of the African Union in Voviam founding congress of Federation of Africa in Algeria in 2012.
Practice locations
Currently, in Quy Nhon City 9 masters, while 3 and 6 colleges grandmaster grandmaster college standards. Next Generation also has about 25 coaches make good teaching. Every day, often a few hundred students to practice martial arts at 9 gym, club on the territory of the city of Quy Nhon. Find the courtyard of the House of Culture in the province Labor Tuesday evening, Thursday, Saturday, could see the air excitedly practice of the martial arts practitioners. Grandmaster Thai Van Hung, Chairman of the Club House of Culture Vovinam under provincial Labour, said: "The club attracts 400-500 students turn to join martial annual exercise. East especially in the summer months, as at present there are 80 students of various ages martial exercising. Also I mainly responsible, there is the additional support of the students qualified to teach Coach combat techniques, self-defense, resistance, multi-practice, practice unit, over his weapons " .
In addition to teaching at the gym, club, grandmaster Truong Quang Binh recent years also accepted to teach extracurricular students some preschools in Quy Nhon. Over the years, some clubs Vovinam in Quy Nhon tried to create conditions for the athletes participating in the tournament in the region and nationwide to exchange, learn from experience, while confirming the substance through the disposition of education achievement. Most recently at the Cup of Clubs Vovinam nationwide in 2014, Club House Cultural labor Vovinam province won 1 silver medal festivals, 1 silver medal antagonists.
Need a "push"
Despite positive changes in the teaching, Vovinam movement in Quy Nhon City, Binh Dinh Province in particular and in general still "lagging" compared with other provinces in the central region, previously weak movements more. This part reason is support provincial Sport Tourism and Confederation Fighting Bình Định far towards Vovinam virtually mainly terms "morale" remaining due Câu on their own club. Grandmaster Thai Van Hung said: "Due to lack of funding, so ago when Mr. Truong Quang Binh guide our students to attend the tournament Vovinam in the region and nationally, often only rent a room 4 people which in cumulative 10 people, 2 martial arts students eat a portion of rice, sometimes carrying bikes in Ho Chi Minh City to transport to venues. These years, it was my turn to go play game lead rubbing, trying to fend for themselves whether packed to eat in better condition but would struggle ".
Over the years, the teacher, the coach still concern established the attached Vovinam Martial Arts Federation Binh Dinh. Currently most of the provinces have developed exercise movements have established long Vovinam Association, and invest more funds to develop the discipline. Reportedly, Phu Yen province has spent funds to 1.2 billion better to organize training activities and competitions Vovinam. Grand Master Truong Quang Binh said: "7 years ago, we have proposed the establishment of Vovinam Association but not the provincial People's Committee for approval. Currently, the conditions for human development have more quantity and quality of expertise, so the next time the teacher, the coach will continue meeting to propose the establishment of Vovinam order Movement towards developing methodical, deeper ".