On January 22th, Championship Southeast Asian Vovinam times III – 2015 opened in sport complex Theikdi Wunna, Nay Pyi Taw, Myanmar with a landslide victory of the Vietnam delegation.
This year with the participation of 7 countries in the region including Vietnam, Thailand, Philippines, Indonesia, Laos, Cambodia and Myanmar host country.
In particular, Thailand and the Philippines are two new national tournament for the first time. The total number of participants athletes are nearly 120 boxers, the largest in tournament 3 times. This is a good signal for the development of Vovinam constantly in Southeast Asia. The boxers compete in 24 medal sets include weight class antagonism 9 and 15 performances right content, up 3 more than the previous year.

Vietnam Vovinam Tournament Careers Southeast Asia this time with 2 coach, 30 athletes, attend all 24 contents and the whole team put most indicators.
Even in the first days of competition, recruitment Vietnam Vovinam played relatively successful, especially in the weight class antagonism. Out in Force 4 kg weight class of 54 men and 57 kg male, 51 kg and 57 kg female women boxers including Tran Anh Tuan, Tran Ngoc Nam, Tran Khanh Trang and Tran Thi Phuong Dung attained Gold Medal. In particular, is the most impressive performances ever female boxer 2 times world champion and two-time champion Tran Khanh Trang SEA Games. She won a perfect score 10-0 before opponents of the Lao Mala Chanthalacksa, then another victory Pacharaporn Thongchan boxers of Thailand in the final with the score 5-1. This is the 2nd consecutive time boxer who Ho Chi Minh City Southeast Asian championship.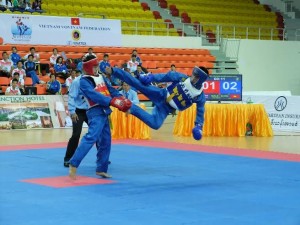 An excellent mix blow Vietnam boxers in content antagonists.
Meanwhile, in the punch performances and achievements of the boxers Vietnam was less positive when there is only one single gold medal in all leg attacks by Le Duc Duy – Le Phi Protection – Huynh Khac Nguyen – Nguyen Van Cuong. In addition, Vietnam also has four silver medals (Long Tigers right – Pham Thi Bich Phuong, Essence Comfort Dual sword – Mai Thi Kim Thuy, Dual Training 3 – Nguyen Thanh Hoa / Nguyen Thi Cam Thuy, Multi-trained dancers gas male – Hark Raw / Van Cuong / Duc Duy / Dinh Chien) and one bronze medal (five boxing – Huynh Khac Nguyen). End 1st day of competition, the Vietnam team are best provisional ratings delegation with 5 gold medals, 4 silver medals and 1 bronze medal. Ranked No. 2 is the home of Myanmar delegation (3 gold medals, 2 silver medals and 3 bronze medals). The tournament will also continue in the next 2 days.