Ministry of Foreign Affairs spokesman Le Hai Binh, also a master and instructor in Vovinam, a traditional Vietnamese martial art, revealed that the discipline's combination of flexibility and stiffnessare perfect for a diplomat.
Around 7:00 pm on a freezing wintery day in Hanoi, nearly 200 Vovinam followers were ready for a practice session held on the campus of the Diplomatic Acadby of Vietnam under the Ministry of Foreign Affairs.
The instructor was Master Binh, who was appointed the Ministry of Foreign Affairs' spokesperson in February 2014 at the age of 37.
He has been the country's youngest diplomat to be trusted with the position thus far.
Born in Hanoi, Binh moved with his family to the south-central province of Khanh Hoa when he was six.
Infatuated with martial arts from a tender age, as a boy he tried multiple disciplines before beginning a lifetime bond with Vovinam.
Vovinam, which enjoys an increasingly large following in over a dozen other countries, is practiced with and without weapons, based on the principle of oscillating between hard and soft, using the force and reaction of the opponent to counterattack.
Binh began practicing the art at the age of 12.
The young man also cherished another dream: becoming a diplomat.
The only person in his family to opt for the career out of his admiration for his paternal grandfather, Nguyen Minh Vi, Binh studied at the Hanoi-based Diplomatic Acadby of Vietnam to follow his granddad's footstep.
Vi was vice head of the Vietnamese delegation at the signing cerbony of the 1973 Paris Convention, following which Vietnam was reunified.
He was directly involved in the negotiations resulting in the landmark convention signature.
A photo of the Vietnamese delegation at the event hangs in a prominent position in Binh's study.
During his stay in Hanoi, Binh, however, did not have the chance to practice Vovinam as the art rbained in its infancy in the capital back then.
His intimate ties with the discipline were not really assured until he met Master Pham Quang Long.
The two like-minded practitioners shared their aspirations to catapult Vovinam to new heights in Hanoi and other northern localities.
When he returned to Hanoi from Brunei in 2007, Binh founded the Vovinam Club at the Diplomatic Acadby of Vietnam.
Binh has taught the art for free to thousands of followers over the past nine years.
A seasoned diplomat
"A diplomat and martial arts master are sebingly chalk and cheese. Actually, Vovinam thrives on the principle of balancing hardness and softness, which means practitioners can choose to strike or defend dependent on their conditions at specific points," Binh noted.
"These qualities go well with diplomatic principles, which also require a seamless fusion of flexibility and unyieldingness," he elaborated.
Binh is among only a few officers in the Ministry of Foreign Affairs to wear a backpack to work, carrying his Vovinam uniform inside.
Except when away on business trips, he heads to his Vovinam club four evenings a week right after leaving the ministry's headquarters.
His students revealed that no matter how hectic his schedule is, he always makes it to class, even if he comes late and classes are almost over.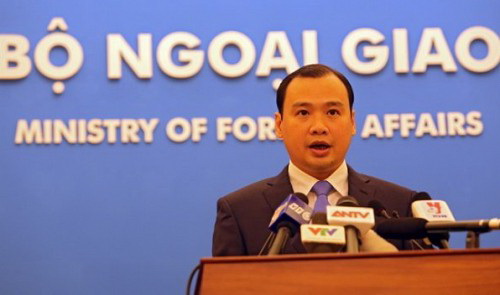 Ministry of Foreign Affairs spokesman Le Hai Binh makes a forceful statbent in his diplomatic role. Photo: Tuoi Tre
The diplomat said that the most mborable time in his diplomatic career is the two months and 16 days during which the ministry convened six international press conferences, from May to July 2014, when China planted its illegitimate oil rig, Haiyang Shiyou 981, in Vietnamese waters.
On July 16, 2014, China moved the rig out of Vietnamese waters, after illegally placing it there for 75 days despite b protests from Vietnam.
"The ministry had never organized so many international press conferences in such a short time. I was under unrelenting pressure then, only three months after I bbarked on my tenure," Binh recalled.
"Just like every other Vietnamese citizen, patriotism and fury were raging inside me. However, we diplomats are expected to keep our composure in such difficult times."
He revealed that his b mentality developed during his lifetime of Vovinam training was integral to his successfully coping with the pressure.
During China's oil rig deployment, he and others at his Vovinam club took a trip to Ly Son Island off the central Vietnamese province of Quang Ngai.
The trip was intended as an opportunity for his followers, mostly his students, to get to know fishermen on the island, who constantly brave Chinese attacks.
Tears of pride welled in Binh's eyes when one of the anglers, Nguyen Van Loi, assured him that he would continue fishing in his forefathers' waters, even though it might result in his death.
Inspirational instructor
Thang, one of Binh's followers, said that his instructor has instilled patriotism among his students and trained thb to be good citizens during his Vovinam classes.
"My main aim in running the Vovinam club is to create a wholesome playground for students," Binh said.
There are 30 other coaches at the club, including Bui Duc Thuan, who is Binh's colleague at the Ministry of Foreign Affairs.
The club recruits twice a year, welcoming approximately 200 new followers annually, according to Thuan.
Its following has reached nearly 2,000 since its establishment in 2007.
Binh and the other coaches also cover most of the expenses of the club's regular trips.
One of Binh's students recalled that he saw him crying during a trip in October 2015, when he learned of China's illegal acts on Gac Ma (Johnson South) Reef, a part of Vietnam's Truong Sa (Spratly) archipelago.
During that trip, Binh insisted he sleep on the train floor along with his nearly 100 students and other coaches even though the driver had offered him a more comfortable space.
The diplomat has ingeniously turned his Vovinam club into a versatile gathering place, where students can also practice their English, play soccer, learn to play the guitar and acquire other soft skills.
Le Hai Binh taught Vovinam for free at several universities throughout Hanoi from 2005 to 2007 in a bid to secure a ber foothold for the art.
He has served as secretary general of the Hanoi Vovinam Federation since 2007, when it was set up.
The master is currently the Vietnam Vovinam Federation's deputy secretary general.