The third Viet Vo Dao Vovinam Ambassador Championship concluded in Algiers, the capital city of Algeria on October 27, with the first prize coming to the Olympique de Bourouba club.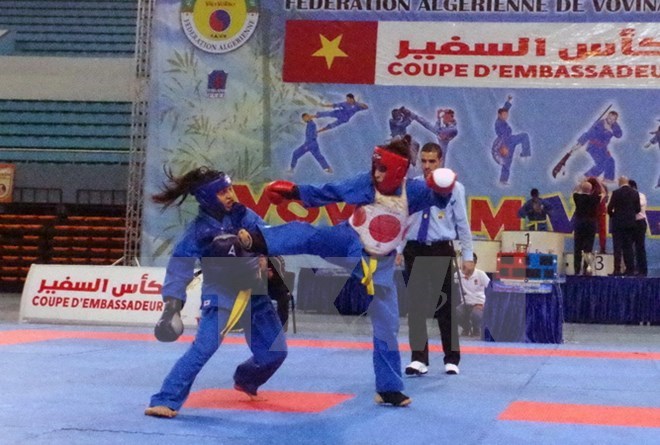 A game at the champs
The Association sportive de la Surete nationale Club won the second prize, while Sporting Clib Freha Rizi Ouzou bagged the third prize.
This is a traditional championship held by the Vietnamese Embassy in Algeria and the Vovinam Federation of Algeria every two years, aiming to encourage the practice of Vietnamese martial art in the north African country and strengthen cultural exchange between the two countries.
The games was launched on October 21 with the competition of 260 athletes from 69 clubs of 14 provinces across Algeria.
Addressing the awarding ceremony, Vietnamese Ambassador to Algeria Tran Quoc Tru said that Vovinam is an unique martial art of Vietnam, representing the thousand-year culture and tradition of national defence of Vietnamese people.
The diplomat said that currently, about 20,000 people in Algeria are practicing Vovinam in 40 out of total 48 localities of the country. This show the growth of Vovinam in the country, he said.
He also expressed his hope that the event will help strengthen the exchange between people of both sides in culture and sports as well as other areas.-VNA