On June 25, 2015 Office delegations, athletes Vovinam Vo Danh Hai due – Secretary General World Vovinam Federation as consular team has left for the capital Moscow, with a delegation representing the Ministry of Culture, Sports and Tourism to attend the "Vietnam Cultural Days in Russia" took place from now until July 2, 2015.

Vo Danh Hai – Secretary-General of the World Vovinam Federation and Vietnam Vovinam
Program by the Department of International Cooperation (Ministry of Culture – Sports – Tourism) in collaboration with the Vietnam Music Hall, National Music Academy of Vietnam, Cinema Department, Institute of National Culture and Arts Vietnam, Vietnam Fine Arts Museum, Tourism, General Sports and some related organizational units, with activities aimed at introducing promote Vietnam subculture to a friend international, and to promote cooperation in the fields of culture and tourism between the two countries Vietnam – Russian Federation. Vovinam Vietnam team with the participation of six athletes was the national champion and international celebrities like Nguyen Binh Dinh, Nguyen Khac Huynh, Nguyen Van Cuong Tran Thuong Pham Thi Bich Phuong Mai Thi Kim Thuy and will join the repertoire presented showing technical characteristics of Vietnamese martial arts as: Crushing leg attack, Safeguard women, Song and YTD sword training in performing arts program unique, impressive people Ethnic Vietnam.
Under the plan, the official opening ceremony of "Vietnam Cultural Days in Russia" will take place at the Union Building, Moscow capital at 19 pm June 25, 2015 with the participation of Ministers Hoang Tuan Anh, along with Minister of Culture of the Russian Federation. Vovinam Then, from June 26 to July 1, group Vovinam athletes will join with the artists continue their tour to the city. St.Pitersburgs and Yaroslavl in chain operations diverse arts and culture, attracting such as music and dance performances, martial arts, fashion with exhibitions, screenings, seminars on cultural cooperation, technology Art Vietnam – Russian Federation; programs to promote and advertise Vietnam's tourism potential in Russia …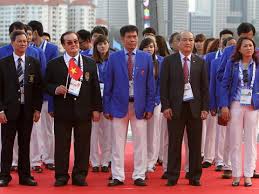 Vuong Bich Thang Director General and the Russian delegation in Vietnam
This is the second major international event in 2015 of Vovinam – Vietnamese martial, continued after the African Championships expansion – Grand Prix time I was held in early June in Algeria