In memoriam - Master GABRIEL IONUT NECHITA
He was a very successful business man and a Vovinam Master. He was elected as the President of the European Vovinam Viet Vo Dao Federation (EVVF) for the second term (2013-2016) on October 6, 2013 in Paris. Thanks to him, the EVVF's management improved in all aspects: better administrative framework, better promotion, good relationships with federations/associations, annual seminars and championships for adults and juniors. He also worked towards establishing good links between the African Vovinam Federation and the EVVF.
Gabriel worked for the EVVF until his last breath. He passed away on the 26th of November 2014 at the age of 38 after a 10 months fight against cancer. The departure of President Gabriel Ionut Nechita is a great loss to the World of Vovinam and to the European Vovinam Viet Vo Dao Federation. He is dearly missed by his family and his Vovinam friends all over the world.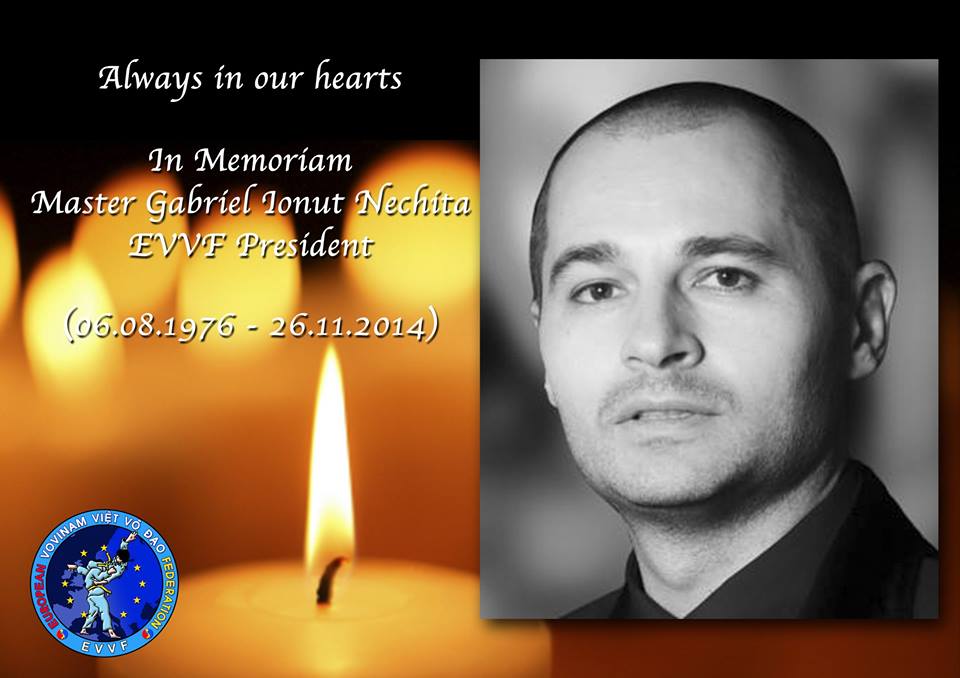 Some of his Martial Arts and Vovinam activities and achievements include:
A. Martial Art
1991-1999: Qwan Ki Do (1st Dang in 1998, Champion in Fighting in National Interclub Competitions for blue belt and black belt, member of the National Fighting Team, member of the Referee Committee since 1998)
1999-2014: Vovinam
2001: Hoàng Đai Nhất Cấp (1 Dang)
2005: Hoàng Đai Nhị Cấp(2 Dang) with Võ Sư Chánh Chưởng Quản Nguyễn Văn Chiếu in Iasi – Romania
2007: Hoàng Đai Tam Cấp (3 Dang)
2011: Chuẩn Hồng Đai (4 Dang) with Võ Sư Chánh Chưởng Quản Nguyễn Văn Chiếu in Ho Chi Minh City – Vietnam
B. Vovinam Activity in Romania
2005-2011: Head of Referee and Organising Committee of National Championships
2011-2013: President of Romanian Vovinam Viet Vo Dao Federation FRVV
2013: Organising a week-long joint training between the national fighting teams of Romania and Algeria in Bucharest (Romania), in preparation for the 3rd World Vovinam Championship 2013 in Paris (France)
C. Vovinam Activity in the World
As an athlete:
The European Vovinam Championship 2004 – Tenerife (Spain): 4th place in Ngũ Môn Quyền
The 1st WVVF World Vovinam Championship 2009 – Ho Chi Minh City (Vietnam): 4th place in Tứ Tượng Côn Pháp
As an international referee:
The 1st EVVF European Vovinam Championship 2010 – Tenerife (Spain)
The 2nd EVVF European Vovinam Championship 2012 – Lignin Sabbiadoro (Italy)
The 3rd WVVF World Vovinam Championship 2013 – Paris (France)
The 27th SEA Games 2013 – Nay Pyi Taw (Myanmar)
As EVVF Head of Referee – Term 1 (2010-2012)
Teaching Referee Seminar for African Countries 2012 – Algiers (Algeria)
Head of Referee in the 1st African Vovinam Championship 2012 – Algiers (Algeria)
As a member of the Romanian Vovinam Federation
Attending the Congress to establish the World Vovinam Federation WVVF 2008 – Ho Chi Minh City (Vietnam)
Attending the European Meeting to prepare for the EVVF Congress 2010 – Paris (France)
Attending the European Congress to establish the European Vovinam Viet Vo Dao Federation EVVF 2010 – Paris (France)
As a member of World Vovinam Federation
Attending the WVVF Ordinary Congress in 2009 – Ho Chi Minh City (Vietnam)
Attending the WVVF Ordinary Congress in 2011 – Ho Chi Minh City (Vietnam)
Attending the WVVF Ordinary Congress in 2013 – Paris (France)
D. Vovinam Activity as EVVF President – Term 2 (6/10/2013-26/11/2014)
Organising the 1st EVVF Technical and Referee Seminar 2014 – Milan (Italy)
Organising the 1st EVVF Fighting Seminar 2014 – Bucharest (Romania)
Organising the 3rd EVVF European Vovinam Championship 2014 – Warsaw (Poland)
Organising the 2nd EVVF Seminar 2015 – Geneva (Switzerland)
Organising the 1st EVVF European Vovinam Children and Junior Championship 2015 – Liège (Belgium)
Source : vovinam-evvf.eu