Prime Minister Hun Sen praised the kingdom's athletes at Friday's award ceremony at the Peace Palace in Phnom Penh, while reminding the more than 200 athletes and coaches of their duties as representatives of Cambodia on the international stage.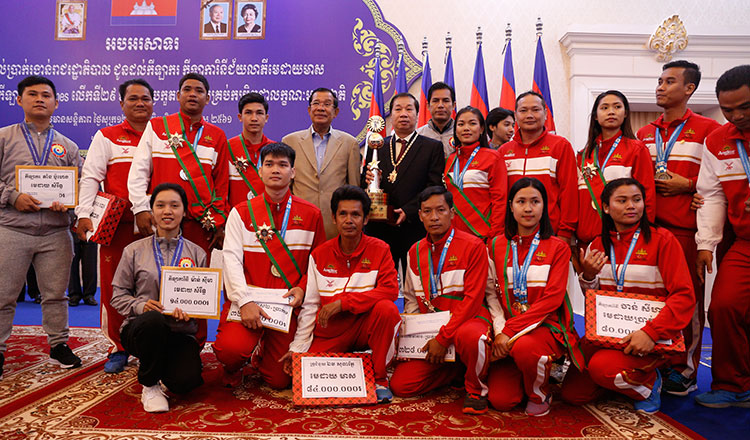 "I was really proud and full of admiration for the girls who won the competition at the recent 29th Kuala Lumpur SEA Games," he said.
"They won gold for the country, added the prime minister, referring to Ke Leng and Ouk Sreymom, the Petanque gold medallists at the 2017 SEA Games.
"The values and honour of the children are national pride, especially when they are awarded medals and our country's flag [is raised] and national anthem [is played].
"This is the most important value. And on the international stage, regardless of whether it is a big or small country, rich or poor country, we will do our best.
"We will continue to bring more gold to our country, especially in the SEA Games in 2023 here in Cambodia."
Cambodia dished out more than $1.7 million in prizemoney with the prime minister contributing from his personal budget some $109,000 to 211 medallists from the 29th Kuala Lumpur SEA Games and other international sporting competitions.
Cambodia's fortunes at the 29th Kuala Lumpur SEA Games saw the 173 athletes surpass the medal tally achieved at the 2015 Singapore SEA Games. In total, Cambodia won three gold, two silver and 12 bronze medals in Kuala Lumpur.
Petanque doubles winners Ke Leng and Ouk Sreymom won a team gold, while men's muay 63kg medallist Khim Dima and female taekwondo under 73kg winner Sorn Seavmey won individual gold medals.
However, the nations' Vovinam athletes were among the most successful in 2017 after winning four gold medals among a total haul of 22 at the fifth annual World Vovinam Championships in New Delhi, India, in August.
Cambodia finished third in the overall standings at the 45-nation competition in the Vietnamese full contact martial art in which athletes use kicks, grapples, throws and weapons.
Pov Sokha, among the most successful of the kingdom's Vovinam athletes, said she was overjoyed with the government's continued patronage of sport.
"I would like to thank the leaders at all levels who maintain an interest in the sports," she said.
"Thanks to the Royal Government, especially Samdech Hun Sen, who took some time to meet with athletes and also for the incentives and bonuses for getting international medals.
"My success is because of the tremendous support from the entire Vovinam community, with Mr Oknha Rath Sokhan, president of the Vovinam Federation.
"Thanks to the Ministry of Education, Youth and Sports, the National Training Centre, my teachers and teammates, as well as the strength of my entire family that made me what I am to this day.
"I will continue to train and bring international medals to our country," she added.