The Cambodia Vovinam Federation (CVF) has voted in Ou Ratana as its new president.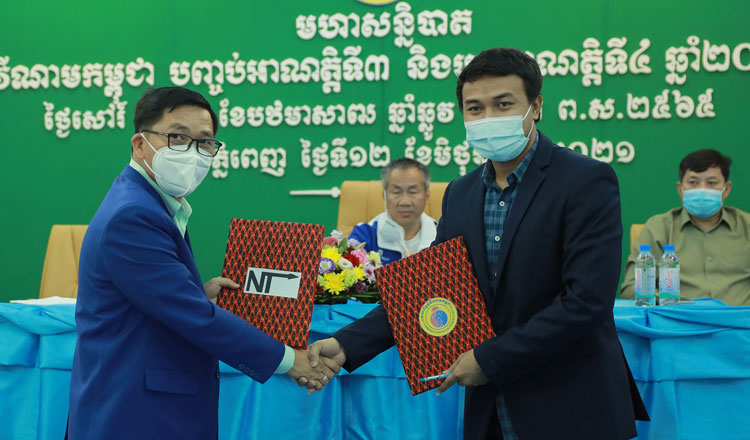 Ou Ratana (left) will oversee an organisation that is primed for global success.
KT/Yuen Punlue
Ratana was elected to the post during a recent gathering of CVF members at the National Olympic Committee of Cambodia (NOCC) headquarters in Phnom Penh.
Ratana will be at the helm of the CVF in the next four years, according to local media reports.
The organisation also elected seven new vice presidents, a new secretary-general, and three new deputy secretary-generals, among others.
The CVF general assembly and election was held in the presence of NOCC Secretary-General Vath Chamroeun.
In his message, Ratana said he is committed to leading Cambodia to success in the 2021 and 2023 Southeast Asian Games.
Vovinam is among the 40 sports included in the 2021 SEA Games in Vietnam. The sport will also be included in the 2023 SEA Games that Cambodia is hosting.
Ratana will oversee an organisation that is primed for global success.
Cambodia is one of the global powerhouses in vovinam, a traditional Vietnamese martial art that involves both armed and unarmed combat.
There are close to three million vovinam practitioners across 70 countries, according to the WVF.
In 2019, Cambodia placed second overall in the 6th WVVF Vovinam World Championships.
The event, which was held in Phnom Penh, drew more than 400 athletes from 24 countries and territories, including Egypt, Iran, Laos, India, Pakistan, Myanmar, Singapore, Indonesia, Afghanistan, Bangladesh, France, Italy, Romania, Philippines, Vietnam, Thailand, Russia, Taiwan, Algeria and Japan.
Ratana took over from erstwhile CVF president Rat Sokhorn. He served as vice president of the organisation before ascending to the top post.
The World Vovinam Federation (WVF) and Asia Vovinam Federation (AVF) both welcomed the election of Ratana.
"Congratulations to His Excellency Ou Ratana, the new President of the Cambodia Vovinam Federation," the AVF posted on social media.
Source: https://www.khmertimeskh.com/50880241/cambodia-vovinam-federation-elects-new-president/