On June 15th 2015 Championship the national team once Vovinam Trophy VINATEX V 2015 will open at Arena Sports in Ben Tre province. The tournament attracted nearly 350 Coaches, Athletes from 26 units in the country such as Ho Chi Minh City, Can Tho, Military, Binh Duong, Dong Thap … and the home of Ben Tre.
The boxers will compete in 42 medal sets countervailing weight class of 22 (12 male, 10 female) and 20 content rights.
At this year's awards have enhanced the quality and quantity because of the unit view tournament is an opportunity to prepare the best force for congress national sport in December 2015 in Nam Dinh . Therefore the unit offers the most powerful force League and to be playing a large friction to assess to offer appropriate curricula oriented to Congress a national sport. Hence this year's spike in the number of athletes and delegates. Compared with the 2013 held in Lang Son with 214 boxers (152 males, 62 females) from 22 units, the larger this year when 292 boxers (106 females) from 26 units. In particular, the host unit congress Sports Nam Dinh national first appeared with 8 athletes.

The battle over financial countervailing drastic happening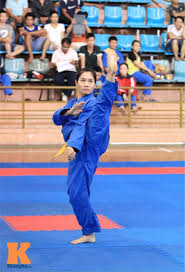 Female boxers Hua Le Cam Xuan won gold content rights Long Tigers
With the participation of the best boxers of Vietnam Vovinam, this year's tournament promises thrilling games and competed fiercely races from the group to the highest spot on the medal tally table . Doan Tho with the mind is the group placed first season in 2013 was determined to maintain the crown to bring the 19 best boxers around. With uniformity in both content and countervailing rights, this unit is no small challenge for the unions want to overcome them.
Meanwhile, Ho Chi Minh City is the center of the country's leading Vovinam was carefully prepared to regain the top spot. With the powerful force of 39 athletes, this unit is considered a leading candidate for this year's delegation throne. Besides, the Army with 27 boxers and best position toward delegation when they are owning the very strong athlete. Ben Tre private landlords with goals in the top 3 leader also sent boxers to compete in the Best award.
With the motto "Vietnamese people use Vietnamese goods", Vietnam Textile and Garment Group (VINATEX) has been with Vovinam in recent years.
In the Championship the national team once Vovinam V VINATEX Trophy 2015, with the accompaniment of donors VINATEX and provided an opportunity for the boxers have a chance to play on capacity building and create festival of Vietnamese martial arts in the country.
The tournament will end on March 20 ..