Vovinam – Defence and Gymnastics, Benitachell, Spain
Plaza Nueva 10, 03726 Benitachell, Espagne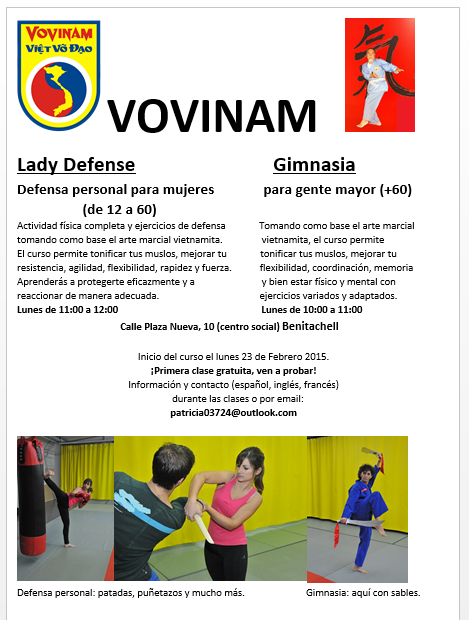 Vovinam – Vietnamese Defence and Gymnastics

Frequency:
Thursdays 10:00-11:00
Your first class is free! Join us and try!
Venue: We now practise outdoors in a delightful place, the public garden next to the sea on the coastal road from Moraira to El Portet. There is a small car park on the right (on the way to El Portet) and downstairs , there is a large public garden, if you go further on there is a little place up the stairs just in front of the sea.
Cost: Participation of 5€ per 1 hour class
---
Gymnastics for Seniors (60+)
Traditional gymnastics based on the Vietnamese martial art Vovinam. The class will allow you to tone up your muscles, improve your balance, flexibility, coordination, memory but also your physical and mental well-being with varied and adapted exercises.
Information and contact (English, Spanish or French): [email protected]
---
Ladies Defence
Self Defence for women (from 12 to 60)
Complete physical activity and exercises of defence coming from the Vietnamese martial art Vovinam. The class will allow you to tone up your muscles, improve your resistance, agility, flexibility, speed and strength. You will learn how to protect yourself efficiently and react accurately.
Information and contact (English, Spanish or French): [email protected]
---
I can already see you frowning and wondering about this alien practice, I will answer below a few questions you may ask:
What is Vovinam?
Vovinam is the traditional Vietnamese martial art that can be practised at any age. It has developed all around the world. Even if it is not very well-known in Spain for the moment, there is a national Spanish Federation and European and World championships. There are two parts in Vovinam, one is about technical and fighting competitions for teenagers and young adults.
But concerning the group I want to create, I will teach the traditional part of Vovinam, that is practised among seniors in Vietnam and that deals with breathing exercises, slow sequences of movements alone or with a partner for example.
What is its aim?
The aim of this group is to softly begin or start again a physical activity adapted to seniors to acquire a better physical and moral well-being in the friendly, motivating and quiet atmosphere of the traditional Vietnamese martial art. The goal is harmony between the positive and the negative as you can see in the official logo, the "am" and "duong" (the Vietnamese words for yin and yang) are circled by a white line that symbolizes the harmony and the way of Vovinam.
What kind of exercises are there?
Varied exercises (alone and by pairs) that enable to improve balance, articular flexibility, muscular tonus, breathing, coordination and memory.
Samples of the techniques used: basic positions and ways of moving (the crane, the unicorn, the snake…), techniques of hands, breathing exercises, manipulation of the fan, stick and sword, relaxation, basic techniques of self-defence, and much more.
The traditional weapons such as the sword are safely used in controlled exercises. (Don't worry, it is a fake sword and it doesn't cut).
Who is the coach?
My name is Patricia. I am a black belt 5th dan of the Official French Federation of Karate and associated disciplines and I have a Master's diploma from the French Ministry of Sports to teach (BEES2 and DESJEPS). I have taught Vovinam for 30 years in associations and travelled around the world to practise and teach it. I would enjoy sharing my passion with you.
What should the participants wear?
Sportswear with sports shoes.
What is the schedule?
There will be one session of one hour a week (a participation of 5€ will be asked for each class).
You are warmly invited to join us and try the first class for free!
Additional Information
Email
Contact Person

Patricia
Submitted by Vovinam World Map