Wearing a pair of short-sighted glasses, a Vietnamese slender girl in a blue uniform suddenly brought both legs to the head of a well-built young man in a scissor-like motion, taking him down in the twinkling of an eye.
Seeing the duo's eye-catching performance in late September in the Vietnamese capital city of Hanoi, over 200 Vietnamese students, both old and new members of the Diplomatic Academy of Vietnam's Vovinam (Vietnamese martial art) Club, uttered in immeasurable joy. Established 10 years ago, the club in late September opened its second training course in 2016.
Le Hai Binh, Deputy General Secretary of the Vietnam Vovinam Federation, also Spokesman of the Vietnamese Ministry of Foreign Affairs, has organized the club and given martial art lectures to its members, mostly students of the Diplomatic Academy of Vietnam and the Foreign Trade University, over the past 10 years.
At the course's opening ceremony, Binh, wearing a blue uniform with the red belt (symbol of fire and blood), the second highest ranking after the white belt (symbol of purity) in Vovinam's belt system. "I started practicing martial arts at the age of 12," the 39-year-old man with a large forehead said, blossoming into a warm smile.
"Vovinam as well as other Vietnamese traditional martial arts represent Vietnamese characteristics, demonstrating peace-loving but unyielding spirit. During our country's international integration process, preserving Vietnamese cultural and traditional value is vital," Binh told Xinhua on Tuesday.
The club's members are as keen as mustard when practicing Vovinam's specialized techniques, including flying scissor kicks and back-fist swung reversely to the temple.
"I come here (the Diplomatic Academy of Vietnam's campus) every Tuesday, Thursday and Saturday to practice Vovinam which has brought to me not only good health, but also strong will and firm stuff to overcome difficulties in life," a club's member named Nguyen Duc Hung told Xinhua, adding that one of the 10 key principles of the martial art is "Be self-confident, self-controlled, modest and generous."
Vovinam or Viet Vo Dao, founded by Vietnamese grandmaster Nguyen Loc in 1938, has become a sport event of the Southeast Asian Games, and many other international tournaments in Vietnam as well as foreign countries, including the 2016 Asian Beach Games which concluded in early October in the Vietnamese city of Da Nang.
Vietnam may consider to propose the United Nations Educational, Scientific and Cultural Organization (UNESCO) to recognize Vovinam as well as other Vietnamese traditional martial arts as the world's intangible cultural heritage, Le Hai Binh said at the International Vovinam Meeting 2016 in Ho Chi Minh City early this year. The World Vovinam Federation has member federations in Asia, Europe, Africa and Oceania.
Unlike judo, which prefers softness, or taekwondo which inclines toward hardness, Vovinam combines both hardness and softness in the right proportions, a combination useful not only in combat but also in daily life, an official of the Vietnam Vovinam Federation said.
The official noted that Vovinam, along with other Vietnamese schools of martial arts such as Nhat Nam, Nam Hong Son, Binh Dinh and Tan Khanh Ba Tra, has helped internationalize martial art philosophies, including fighting spirit, tenacity, encourage, fairness and tolerance.
Vovinam is now present in over 60 countries and territories in the world, attracting millions of Vietnamese and foreign practitioners. In Algeria alone, people are practicing the martial art in at least 30 out of 48 cities and provinces of the African country, according to the Vietnam Vovinam Federation.
Vovinam's unique characteristics, including eye-catching but practical defense and attack techniques, especially scissor kicks, have won the hearts and minds of international friends.
After arriving in Hanoi to work as a consultant for a Transport Ministry project, Per Mathiasen, a middle-aged, small-statured Danish man, who used to practice Muay Thai (kick boxing), a sport popular in his wife's native country, was bewitched by Vovinam.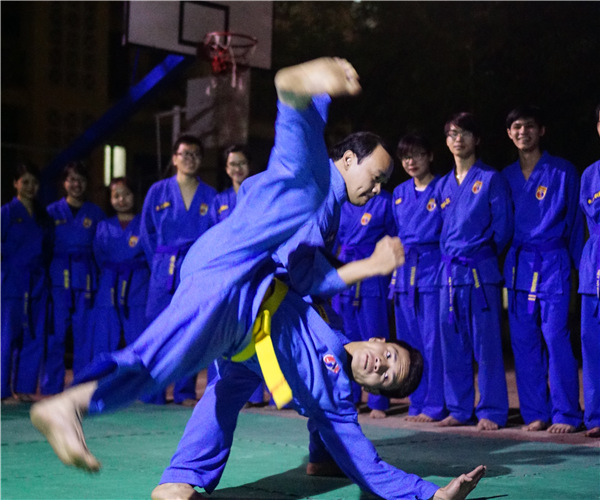 Le Hai Binh, Deputy General Secretary of the Vietnam Vovinam Federation, also Spokesman of the Vietnamese Ministry of Foreign Affairs, is teaching Vovinam to his students in Hanoi in 2016. Photo: Xinhua
"I was very impressed by fighting techniques of Thuy (Mathiasen's fitness instructor in Hanoi). He approached his opponents in a flash and took them down with powerful punches or scissor kicks," he recalled.
According to Mathiasen, Vovinam is most suitable for people of small stature like him because it teaches followers how to quickly get close to opponents and take advantage of their weak points to defeat them.
"Practicing Muay Thai requires greater force and power. Vovinam is much more flexible. It is a wonderful combination of hardness and softness. Its escape, wrestling and levering techniques allowed me to use opponents' force and reaction to defeat them without much physical strength," he said.
Ng Shi Lei, who practiced karate for two years in Singapore before engaging in oriental studies in Hanoi, said she liked Vovinam's unique scissor kicks and its strong national spirit so much that she decided to expand her martial arts studies to include Vovinam.
"I know that many of my Vietnamese fellow students cycle 20km to Vovinam training schools or clubs here. I admire their dedication. I also appreciate Vovinam's attractiveness," the Singaporean woman said.
So captivating for non-Vietnamese has Vovinam proved that not only have they been practicing it for some time, mainly for health and self-defense purposes, but they have also devoted their own money, time, and effort to researching it hand promoting it in their home countries and elsewhere. Patrick Levet is a case in point.
Patrick Levet, who was born in France and grew up in Spain, can speak 11 languages, including English, Vietnamese and Chinese. He has promoted and taught Vovinam in a dozen countries, including Singapore and Morocco.
His Vovinam students do not have to pay tuition fees. Levet started to practice boxing at the age of 10, and turned to Vovinam in 1979. In mid-2008, the Vietnam Vovinam Federation granted him a red belt. Now, Levet is still promoting Vovinam through martial art schools, interviews, books and video clips on YouTube.
Like Levet, Mathiasen wants to pass his burning passion for Vovinam to other people. "In Denmark, I'll spend time practicing Vovinam, both with and without weapons. I'll teach my son so that he can master Vovinam some day," Mathiasen told Xinhua recently before leaving Vietnam for his hometown.
(APD)