Master Nguyen Van Chieu, who has brought the Vietnam Vovinam to the world and is currently the Vice President of the World Vovinam Federation, has become the main character in the series "From Human to Hero" US news agency CNN.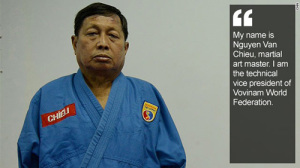 Master Nguyen Van Chieu, 65, is currently Vice President of the World Vovinam Federation
Leading news agencies USA CNN crew elected to Vietnam implementation reports on the traditional martial art of Vovinam in Ho Chi Minh City. Reportedly, CNN contacts and work with the World Vovinam Federation (WVVF), CNN mentions that: "We want to make a TV program about the great features of Vovinam. This is ideal when we have a work on Vovinam right on the Vietnam country, homeland of this martial art. "Therefore, WVVF introduced Master Nguyen Van Chieu – Chief Managing Masters Vovinam Vietnam Vo Dao to collaborate and conduct work with CNN.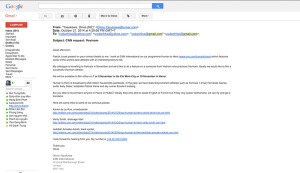 Message from director Olivia
Master Nguyen Van Chieu, 65, has devoted her life to bring Vovinam, a martial art originating from Vietnam to the world. So far, there have been so many people pursue Vovinam, a part that is due to the efforts of Mr. Chieu, who spent four decades in order to develop it. CNN wrote, in the present age, Mr. Van Chieu was supposed to rest, but he said he was a lot more work to do.
Sensei said: "My dream is to open an academy, a large school to people from countries around the world can come to Vietnam to research and learn about Vovinam."
In an interview with the program "From Human to Hero" by CNN, he adds: "Vovinam suit everyone … Especially it was consistent with the training program of the armed forces and the an appropriate method of self-defense for women. "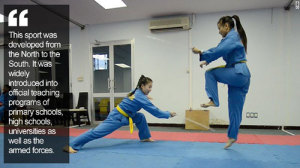 Founded in 1938, Vovinam was now known to the whole world
Founded by Master Nguyen Loc in 1938, Vovinam convergence quintessence martial thuatco Vietnam TV and other arts from around the world. Mr. Van Chieu said, this martial art is a combination of demand and as to counteract enemy. In which "outline" is used to distinguish themselves to defense and "demand" is used as a force of the enemy to rob Catalysts weapons.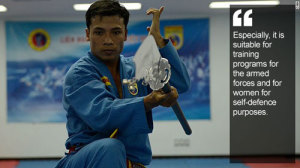 This suite martial training program for the armed forces and to safeguard women
Vovinam is a combination of all the individual principles, using stone, punching, throwing, self-defense, weapons and other objects of traditional techniques with unique clamping foot by locking pins, body even the neck of the opponent.
The performances of martial arts practitioners in Ho Chi Minh led the CNN reporter extremely excited, CNN described the practitioners "like the stuntman in the blockbuster."
Not only that, Vovinam was physical activity, combining the spirit of restraint and calmness. Master Nguyen Hung – Deputy Chairman of Federation-VietVoDao in France said: "You must have strong will in any circumstances. The abundance of Vovinam is in the balance of technical exercises and the calm. "
Above all, the martial art of Vovinam is to create good citizens in society should not train fighters.
Master Nguyen Van Chieu Vovinam training at age 16, began his teaching career in the early 1970s and became the director of the training center in Binh Dinh. In 1978, he became the first person to restore this martial art in Ho Chi Minh City after the war ended. During the 1980s, he began to introduce the art to the countries and organizations represented in more than 20 countries, the first being in Berlarus in 1990.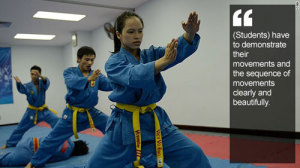 Practitioners performing movements deft motion
World Vovinam Federation estimated that in Vietnam had a million students and over 500.00 participants of this martial art in 52 countries worldwide. Alone in France, Nguyen Hung said there are about 10,000 students and early this year, Vovinam Championship 4th was held in Paris, France.
Master Nguyen Hung said: "Vovinam originated from Vietnam and now it has become a martial arts for everyone."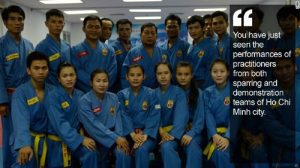 Mr. Nguyen Van Chieu and practitioners
In 2009, Vovinam has been approved to become competitive sports at the games in the Asia, before official public debut at the Southeast Asian Games in two years later.
Back to Ho Chi Minh City, Nguyen Van Chieu can now pleased and proud of what he did in life. He said: "I have lived a life of martial arts, in general I'm not rich. Compared to other occupations, even I can poorer. I followed this path because of passion, the spirit of the sport and because I learned it, I have the responsibility to return the favor with his mentor. It's my destiny. "
Despite his advanced age, however he remains extremely supple Screening for possible implementation of the exercises that most people who have the same age as he had feared.
Sensei said: "There are many benefits from Vovinam, it gives me the physical strength and energy to work. When practicing, I feel healthy and it also helps me to stay away from alcohol. "